Comparison: Salesforce Vs SugarCRM
---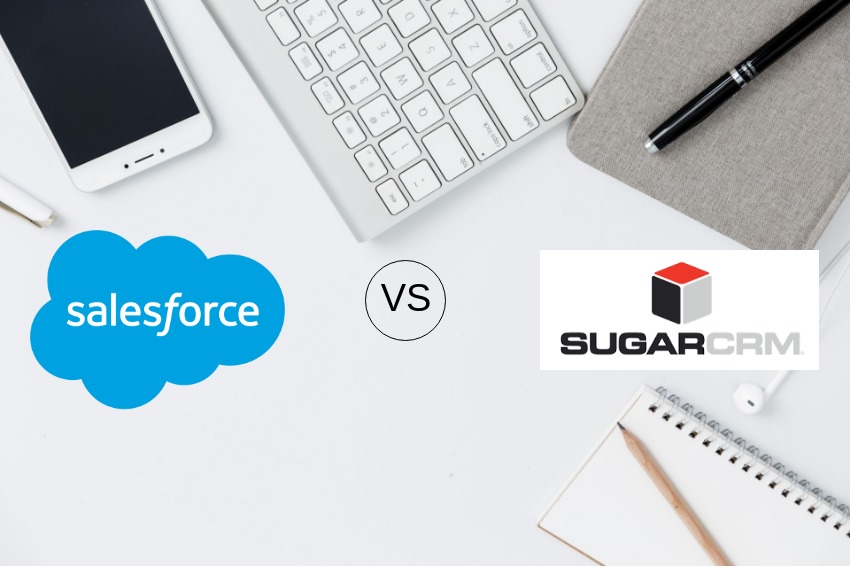 ---
The global leader in CRM, Salesforce.com and its competitor SugarCRM is the leading CRM solutions for the businesses of different sizes. Although, SugarCRM is recommended because it provides almost the similar features with the lower price tag. That is why It is popularly considered worldwide as the most effective CRM software in comparison to the better known Salesforce by those who have the limited budget to spend on.
Salesforce is still the world leader in CRM, but if you want to find out, at what each one of them is capable of, you couldn't be able to find much as they are not so different.
Generally, SugarCRM is used by small business. It is considered to be a better fit for them. But it has also grown many enterprise level clients as well with thousands of user per instance.
So, the point is where they differ the most? To get the answer to this confusion clearly, check out my pointwise comparison below:
1. Features comparison:
Salesforce offers cloud-based CRM solutions and a popular choice for a mid-size to large enterprises. SugarCRM offers both 'On-cloud' and On-premise based CRM system and it is extremely customizable.
With SugarCRM, the modules can be customized and resized by simply drag and drop.
With Salesforce, the modules are customized from the admin panel and not all users have access to the modules.
The major difference between them is that SugarCRM is built on open-source technology hence, any developer can access the source code and they can create their own integrations in PHP with Sugar.
While Salesforce is not built on an open-source technology, It's written in APEX. Although it can also be customized but by a much smaller group of developers who knows APEX. Creating APIs in Salesforce can only be done within the parameters of their closed-source language.
2. Mobile Editions:
Salesforce has a separate mobile platform called Salesforce 1. Mobile mini apps can be easily configured with it. While as, SugarCRM has its own Software development kit(SDK) and a mobile interface that is used by the programmers to manage and customize the mobile app.
The cost for both is built into the overall software price.
3. Editions and Pricing:
Salesforce offers a various range of packages. Its editions range from a basic Contact Manager program that only costs $5 per user per month, to an Unlimited plan that cost $300 per user per month that includes a full range of CRM options. The Salesforce.com editions include following packages for sales cloud-
Lightning Essentials: Offers Basic sales & marketing for up to 5 users($25/user/month)
Lightning Professional: Complete CRM for any team size($75/user/month)
Lightning Enterprise: Offers customized CRM for your entire business($150/user/year)
Lightning Unlimited: Unlimited CRM power and support. ($300/user/month)
For more details on Salesforce.com pricing and editions, please refer below link–
Salesforce Pricing and Editions
SugarCRM provides 3 types of licenses as per the user's convenience.
Sugar Professional – Ideal for growing your small business ($40 per user per month),
SugarCRM Enterprise Edition – Best value for larger businesses ($65/user/month) and
Sugar Ultimate Edition – Most complete CRM plus highest level of support($150/user/month)
For more details on SugarCRM pricing, please refer below link–
Conclusion:
After discussing the above comparison I can tell that the battle of Salesforce and SugarCRM won't end or we couldn't determine the clear winner among them
Where Salesforce is recognized and global giant in CRM with the loyal and large clientele, SugarCRM too has performed great and improve itself over a past couple of years and gives Salesforce a tough competition in terms of usability and expansion.
However, What technology the client will choose for the development of their CRM solution, that ultimately depends on their budget and need of the business.
We at Scideas, provide CRM solutions in both the technology. We have vast experience in Salesforce as well as SugarCRM. Our team of experts will help you understand your needs according to your business and provide you the best CRM Software Solution. 
Contact Us to discuss your requirement and get a free consultation.
Tags:
Salesforce vs SugarCRM