How to Install NPSP in Salesforce and it's Benefits
How to Install NPSP in Salesforce and it's Benefits
Here is the article which provides information regarding the NPSP and how to Set Up NPSP in Salesforce.
NPSP: The Nonprofit Success Pack(formerly known as Nonprofit Starter Pack) is a set of managed packages developed and maintained by Salesforce.org. It allows nonprofits to better manage some common nonprofit business processes.
NPSP help a Nonprofit Organization using Salesforce
• You can track the relationship between Contacts, Donations, and Recurring Donations.
• You can Manage your Contacts and Households, Donation Payments, Organization Accounts, and Affiliations.
• It helps in Marketing and Communication.
• It helps in Fundraising Campaign Management.
• We can have Customizable and Configurable Rollups, Soft Credits, Hard Credits, Batch Imports, Gift Entry, and many more.
Complete Platforms for Nonprofits

How to Install of NPSP in Salesforce Org:
To install NPSP(Nonprofit Success Pack) on an existing Salesforce Organization go through the following steps.
1. Visit the link https://install.salesforce.org/products/npsp/3.183/install
2. Log in with your Org credentials.
3. Review the installation list and click Install.
4. Once done with the installation, see Post Installation Configuration.
In this way, we can Set up the Npsp in the Salesforce Organization and we can use the package according to our requirements. NPSP provides the time-saving features for Non-Profit Professionals. NPSP package provides NPSP settings where we can configure and customize the settings according to the Business Needs and Client Specifications.
What can Include and Done with NPSP:
• People – Accounting Model = Household
• People – Household
• People – Address Settings
• Relationship Settings
• Donations – Opportunity Names
• Donations – Memberships
• Donations – Payment Mapping
• Donations – Donor Statistics
• Donations – Contact Roles
• Donations – Campaign Members
• Recurring Donations – Custom Field Mapping
• Bulk Data process
• System Tools
• Reports and Analytics
• Acknowledge Donations through Email
• Automated and Manual Soft Credits
• Npsp Data Importer
• Batch Data Import and Gift Entry
• In-Kind Gifts, Grants.
• Tribute Opportunities.
• Manageable Trigger Handlers
• Soft Credit and Matching Gifts
There are many more things and be done with the NPSP package with advanced features and flexibility. It provides an advanced configuration like Table-Driven Trigger Management, Deploys Custom Apex in Table-Driven trigger Management Framework.
Know more: Salesforce apex to send the image file to 3rd party using REST API
Troubleshoot Npsp:
• Error Handling
• Common Health Check Errors
• State and Country Picklists for NPSP
• Troubleshoot Rollups
• Known issues in Lightning Experience
• Troubleshoot the Npsp Pack
NPSP Feature in Salesforce for the Non – Profit Professional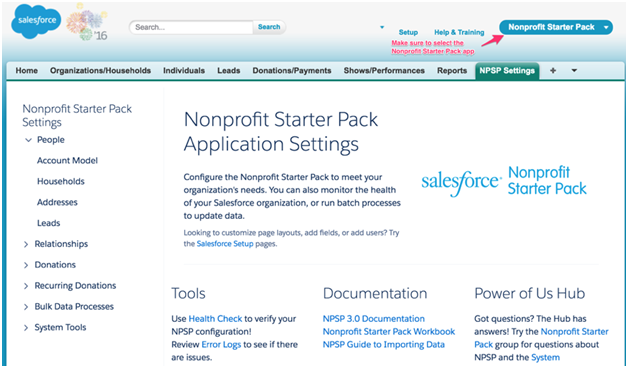 To know some of the NPSP Features in Salesforce go through the following points:
• Donation Tracking.
• Can Import Data from Npsp Data Import.
• Peer-to-peer fundraising.
• Donation Pages.
• Can Do Secure Payment Processing.
• Connect Constituent Relationship
• Donation and Grant Management
• Engagement Management
• Detailed Reports and Analytics.
• Easy Access through Mobile App.
Benefits of the Salesforce Nonprofit Success Pack
• It's free for nonprofits for up to 10 Users.
• It's customizable and configurable to your needs.
• The NPSP helps begin the larger configuration process.
• It's built by Salesforce, so the data models work together seamlessly.
• It enables you to send quick emails to your segmented lists through Outlook, Gmail, etc.
Have fun with NPSP in Salesforce which provides more efficiency and fulfills the requirements in an easy way.