Salesforce has customer's solution for top industries
Did you know that many more industries are making waves in Salesforce? Salesforce is the world's most highly valued cloud computing and customer relationship management (CRM) product on the planet. Transform your organization working life and business relationships exponentially. Salesforce helps to manage your customers with readily accessible data which allows for a constant growth in both productivity and efficiency.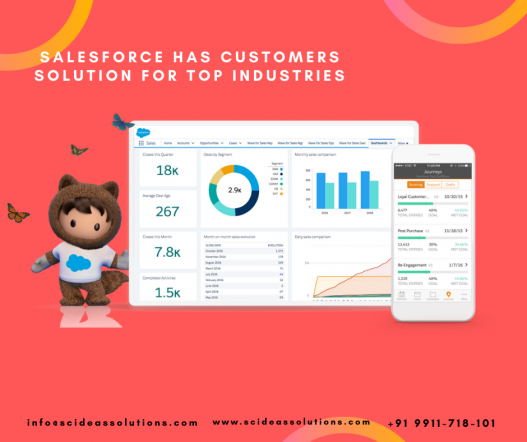 Salesforce has customers' solution for many industries
Financial services: The financial industry is said to have been disrupted by social, digital and new mobile innovations. With the application of Salesforce CRM platform, companies can quickly switch from defense to offense with better personal customer interaction.  You can grow your book of business much faster and build good relationships when approaching finance with Salesforce.
Healthcare and life sciences: optimize to handle the industry's unique and fast-paced environment, Salesforce for Life Sciences helps medical device and pharmaceutical companies collaborate across your entire ecosystem of customers, get perfect product into market faster, turn your data into a valuable, and revolutionize patient care.
Retail industry: Salesforce CRM platform is really demanding in the retail industries as shoppers demand a seamless Great customer experience from online to in-store.
Manufacturing & Consumer Goods: people, markets, channels, and products are more connected than ever.  Salesforce provides a ton of competitive advantages when engaging in the hyper-connected markets. With smart connected devices you will sell faster results and ultimately trust outpace the competition.
Communication and Media: Today's communicate with customers don't see any separation between devices, networks, and content. Salesforce for Communications gives customers, agents, and retailers reps, fast, easy access to all the all the information they need. So customers enjoy a more cohesive, personalized experience at every step of the way.
Government: The increase in connected global consumers in the private sector has framed this same expectation of High-quality active connectivity when interacting with governmental bodies as well.  Salesforce helps in order to build trust, improving engagement and driving lightning fast innovation that gives you the opportunity increase to better connect people to their government.
Government CRM solutions from Salesforce are revolutionize the next-gen capabilities of the public sector just as it has the private sector. Today's most innovative governments are user adoption services models of business, viewing their citizens as highest quality customer, because today's voter expects public sector agencies to deliver the same high-quality service as the private sector.
Tags:
Salesforce
,
salesforce crm
,
salesforce developer
,
salesforce inbox
,
salesforce partners
,
salesforce platform
,
salesforce sales cloud
,
salesforce software
,
sfdc salesforce