Top Features Of Salesforce Winter 19 Release
---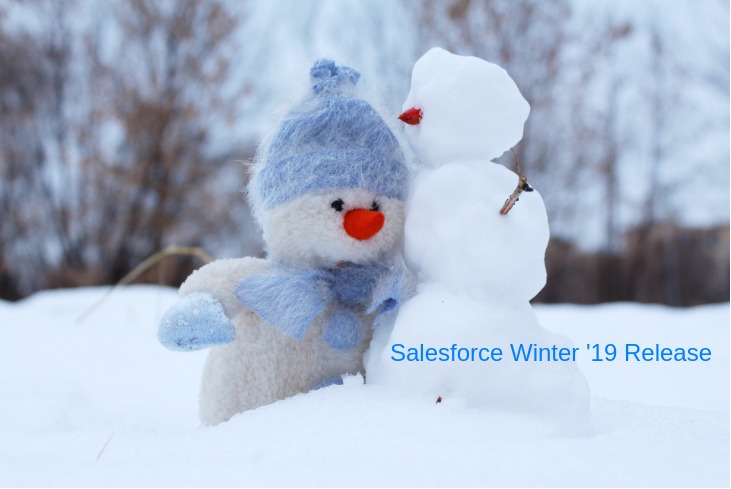 ---
Top Features Of Salesforce Winter 19 Release
Salesforce releases updates thrice a year in spring, summer, and winter. Salesforce winter 19 release is available with some of the beneficial and exciting features and functionalities.
Let's take a look below on the features new features introduced in the winter 19 release:
1. Upgraded Einstein Analytics:
New enhancement in Salesforce Analytics Cloud lets you easily customize email insights as per your business needs. These insights can be used further to establish a connection with future prospects.
The insights are easily accessible on the go and help in deciding on taking appropriate actions based on the insights. Einstein Discovery is now completely integrated with Einstein Analytics, makes it easier to explore and combine multiple datasets, discovering and investigating insights faster, all through a single interface.
2. Lightning Feature Enhancements:
This release has a bunch of new lighting features. Many new enhancements to lightning have been released to attract the classic user to switch over lightning.
These lightning features give you the liberty to choose the display density and allow you to control the view of data as you want without affecting the page layout.
you can recover the data irrespective of how your session ends, you can also locate any specific data from the large list of views using the new search option.
a feature called the change owner button. this button allows assigning a new owner to multiple selected cases, leads, or customer objects at a time. besides the above one, there are many new and useful features introduced with lightning.
3. Pardot Enhancements:
In the new release, Pardot offers a single platform for both sales and marketing departments to use. Viewing and syncing Salesforce and Pardot campaigns become easier through the lightning platform in this new release.
It offers to manage campaigns efficiently and provides higher reporting functionality. All this provides a streamlined view and increases the visibility of the prospect's activities and engagement history.
4. Improvement in Service Cloud :
A feature called LiveMessage experience (Lightning) offers your customer service levels take a leap. This feature seamlessly provides an integrated experience via the Lightning service console.
It helps to engage with customers using Facebook Messenger as well as SMS. The Lightning Flow for Service provides assistance in alerting agents in the field to take necessary steps, sharing responsibility with service contractors through the dispatcher console, and much more.
5. Marketing Cloud Enhancements :
Marketing Cloud is the main platform to delight customers. Salesforce's new release brings the Social Studio functionality that allows you to receive real-time as well as scheduled alerts.
This makes it easier to know when certain criteria have been met. Measuring the impact of every interaction has been made easy, which can be leveraged to deliver better results in the future.
6. Health Cloud Enhancements :
Health Cloud has been enhanced by injecting added usability components and features. The cloud now smoothly supports interaction between the payers and healthcare service providers. Two lightning components have been added that support utilization management.
The patient card and timeline have also been enhanced. Service providers will now be able to track and submit their requests for authorization, whereas payers will be able to process requests easily, ensuring proper patient care at the right time.
---
That's all about the Salesforce Winter '19 release new features and enhancements. To know more about how to get the best of these features for your organization's success, contact us at info@scideassolutions.com. Visit us at Scideas Solutions
Tags:
Salesforce winter 19 release